An official alliance between Greater Fort Wayne Inc. and Black Chamber Fort Wayne will benefit members of each group.
GFW Inc. President and CEO John Urbahns, Black Chamber board president Ramadan Abdul-Azeez, and GFW Inc. board chair Beth Goldsmith on Nov. 29 signed a memorandum of understanding at what is now the address for both chambers.
"Greater Fort Wayne Inc. has worked in collaboration with the Black Chamber since our inception in 2014," Goldsmith said. "And our mission is clear and simple. We want to support member businesses. We want to continue to grow businesses, and we want to retract and retain top talent in business to our region. And that definitely includes all the business owners that are part of the Black Chamber."
Decision-making focus for business opportunity
Abdul-Azeez, who has led the Black Chamber since July, said both he and Urbahns wanted to create the official alliance. The chamber, which has 70 members, has been growing its brand in the last year, including a new logo and billboards describing the group's focus.
"What we tend to focus on now is the growth and expansion of Black business and the introduction of entrepreneurs into the business community."
The memorandum of understanding brings focus on the Black Chamber as a partner in "decision-making for business opportunity across the city," Abdul-Azeez said.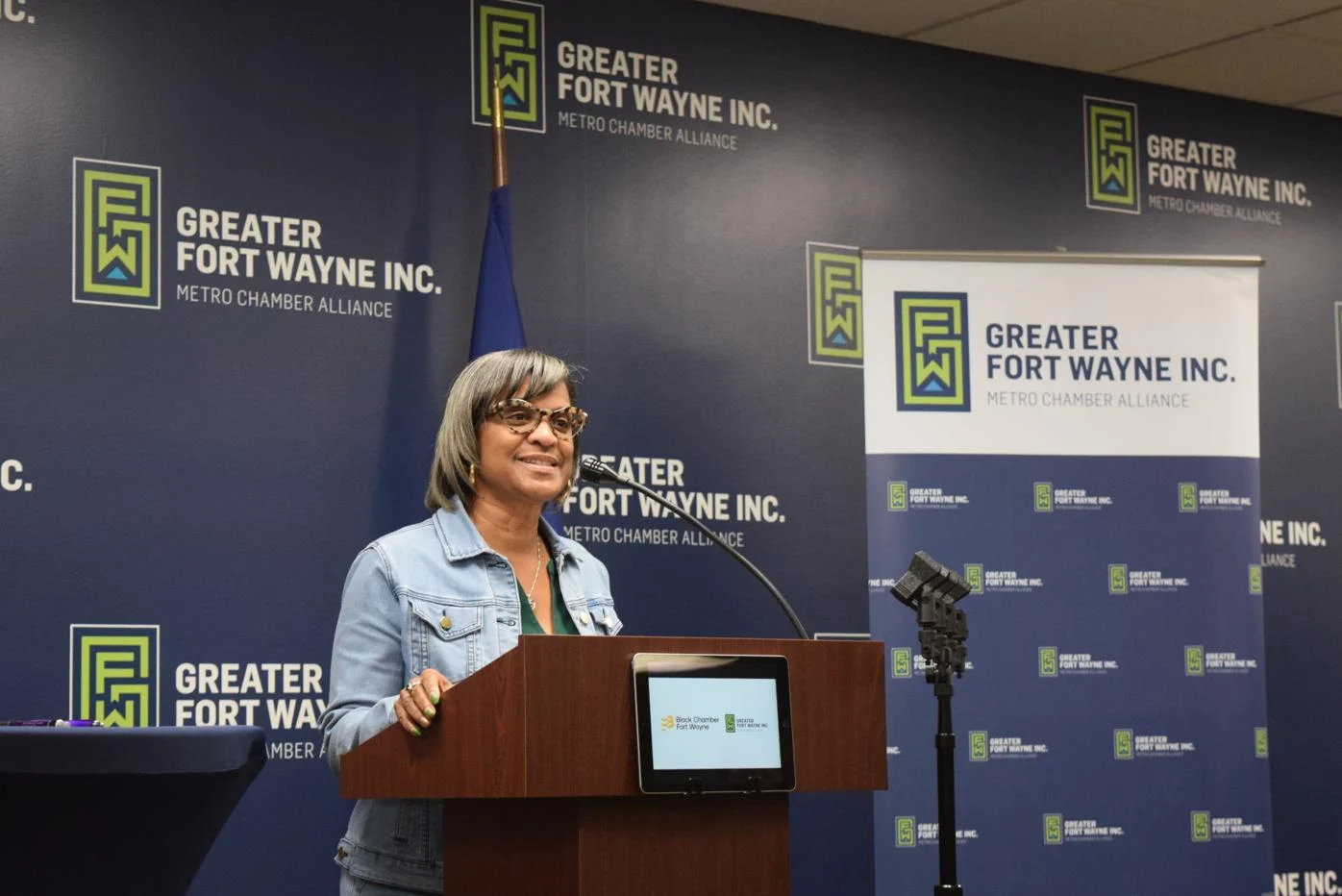 The two chambers will share their experiences in business, information and data on informing business and shared perspectives, and language to make sure the message isn't lost, he said. The Black Chamber has ideas about what kind of growth it wants to see on the southeast side of the city.
"Greater Fort Wayne Inc. operates under three core values: inclusivity, collaboration and results," said Urbahns, who has led GFW since 2019. "… It means we value the thoughts and contributions of all people and understand that inclusion is critical to sustainable economic development."
Through the memorandum of understanding:
Black Chamber Fort Wayne now uses GFW Inc.'s address at 200 E. Main St., Suite 800, Fort Wayne, IN 46802 as its mailing and corporate address.
GFW Inc. will provide space within its office for Black Chamber meetings, including the Black Chamber's monthly business group meeting. Annual meetings won't be held there, said Kenesha Williams, Black Chamber vice president of finances and founder and owner of Imperial Business Management.
Members of GFW Inc. and Black Chamber Fort Wayne will receive "members-only" pricing to both organizations' events.
The centralized location will benefit all entrepreneurs, as the group is open to Black businesses throughout the city, Black Chamber Vice President of Operations Sylvia Page said.
Williams said as a business owner she's interested in future projects with the Greater Fort Wayne Inc. "The city has begun the revitalization of the southeast side. What we would like to know is the people who reside there and the people who have a vested interest there, what they would like and what they would like to see in their communities."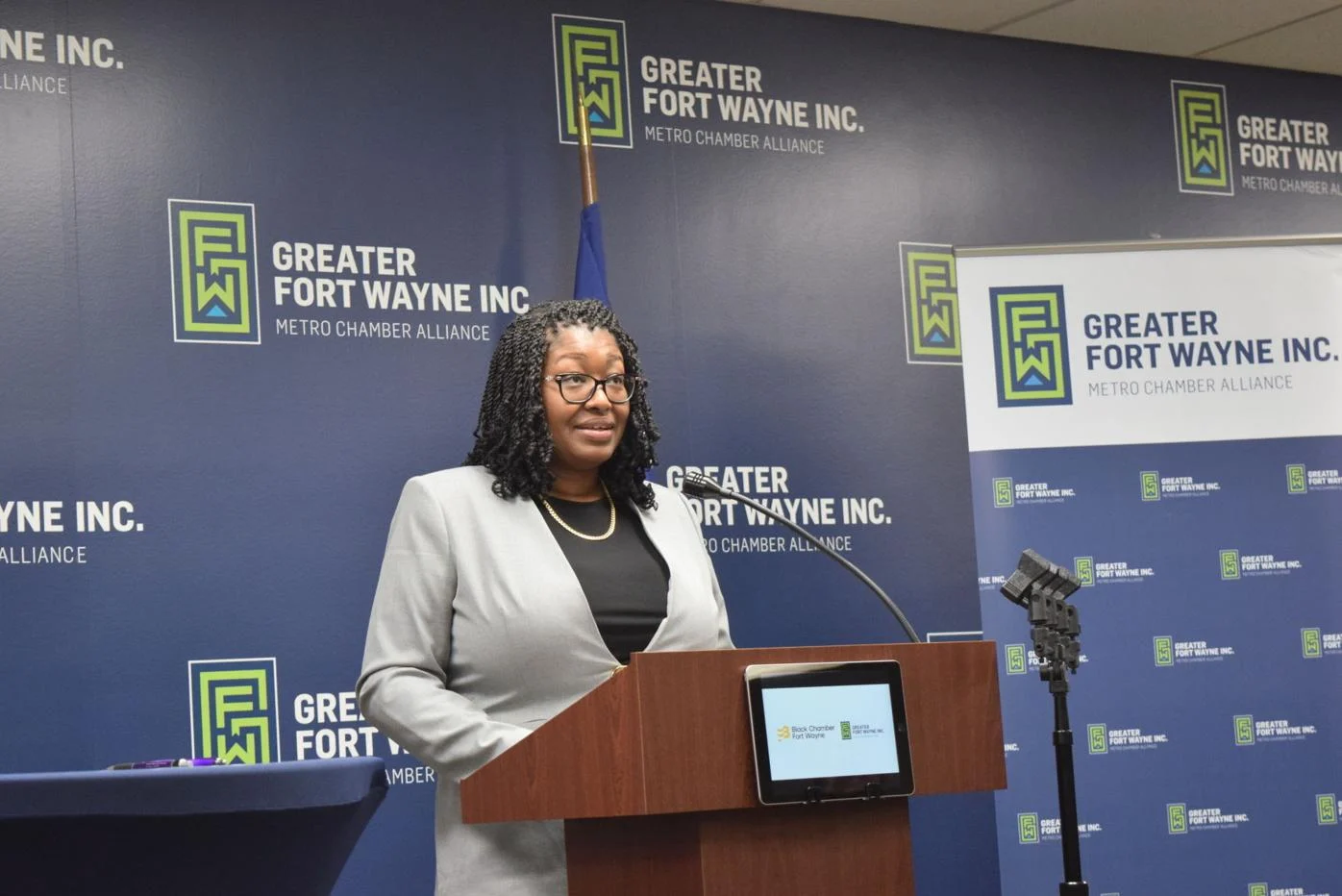 About Black Chamber Fort Wayne
Black Chamber Fort Wayne, established in 2011, had been operating out of an office on Paulding Road. It has had a variety of programs that focus on financial health, mental health, access to capital and understanding local government. One program, Club 720, would help people earn a credit score of 700 or better. Doing so allowed the holder to get lower interest rates.
For more information, visit myfwbcc.org.
About Greater Fort Wayne Inc.
Greater Fort Wayne Inc. has 1,330 members and serves Fort Wayne and Allen County as its metro chamber alliance and primary point of contact for economic growth. GFW formed in 2014 from the merger of the 100-year-old Greater Fort Wayne Chamber of Commerce, the 20-year-old Fort Wayne-Allen County Economic Development Alliance and Leadership Fort Wayne.
GFW Inc. focuses on attracting capital to the county through economic development, advocacy, programs and resources that support business success, leadership development, graduate retention and community engagement.
To learn more, visit gfwinc.com.
---
Additional Resources
Nov. 26 | Greater Fort Wayne, Black chambers create alliance — Fort Wayne Business Weekly, see original article
Nov. 30 | Greater Fort Wayne, Black Chamber sign pact — Journal Gazette, see article