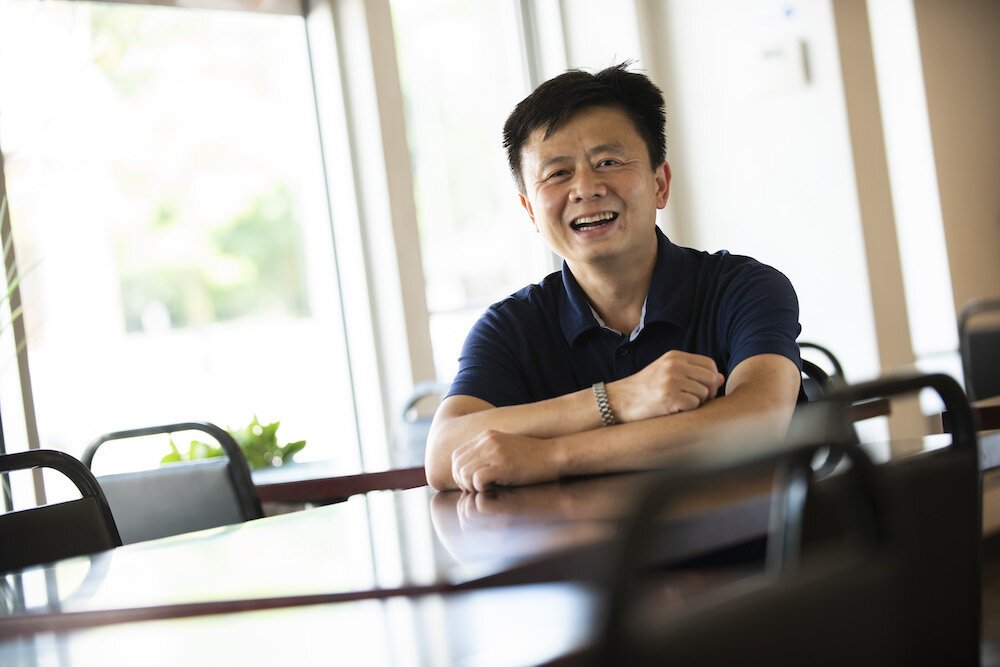 Lee Truong moved West Coast Grille to South Calhoun Street in 2014.
When Lee Truong told friends he was moving his restaurant from Glenbrook Square Mall to South Calhoun Street in 2014, he got one common response.
"They say: 'Oh, it's a ghetto place. Really ghetto,'" Truong reflects. "A lot of friends told me: 'Don't go there, Lee. Go to the north instead.'"
But perhaps Truong's friends didn't know how much the south side of Fort Wayne meant to him.
As a Chinese immigrant from Vietnam, Truong moved to the south side of Fort Wayne with his family when he was 16 and graduated from South Side High School. The south side was where he learned how to speak English and launched his career in the restaurant industry.
"I grew up here," he says. "I took a bus up and down this street to work at Takaoka restaurant in high school. I know a lot about this place. There's a lot of diversity here. We have Burmese, Mexican, Asian, Vietnamese."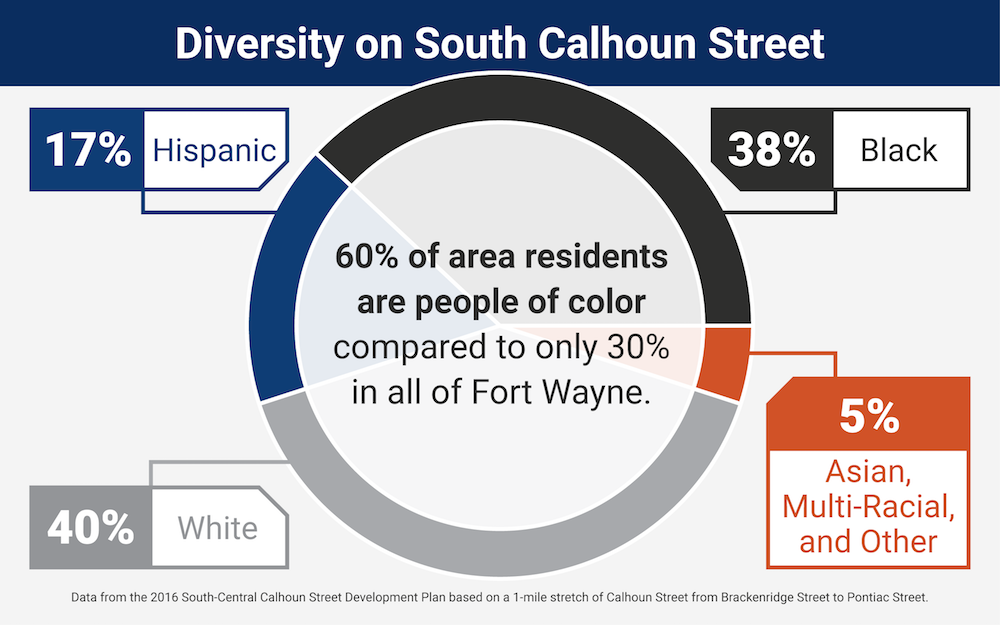 In fact, along Fort Wayne's South Calhoun Street urban corridor alone, more than 60 percent of the population is people of color, compared to only 30 percent citywide.
So Truong didn't listen to his friends. Instead, he did the exact opposite. He found a vacant storefront on South Calhoun Street—a building with no windows and only one double-security door to get in and out. Then he knocked out the front wall and turned it into windows, opening it up to the public.
"I'm not afraid," Truong says. "I want it open—everything open. People see that, and they feel safe."
West Coast Grille currently seats about 40 customers in an open, modern atmosphere.
Today, eight years after moving to South Calhoun Street, Truong's restaurant West Coast Grille is frequented by everyone from neighborhood residents to downtown Fort Wayne business professionals and local police. The street itself is lively, too, drawing crowds from downtown with its walkable sidewalks and mix of multicultural restaurants.
A few years ago, Truong purchased his building from his landlord. This fall, he plans to expand West Coast Grille into the storefront next door where he can add 50 more seats to host special events.
"Two years ago, our business tripled," Truong says. "People are happy to be here. Now, I have customers on the north side by Dupont who drive down here."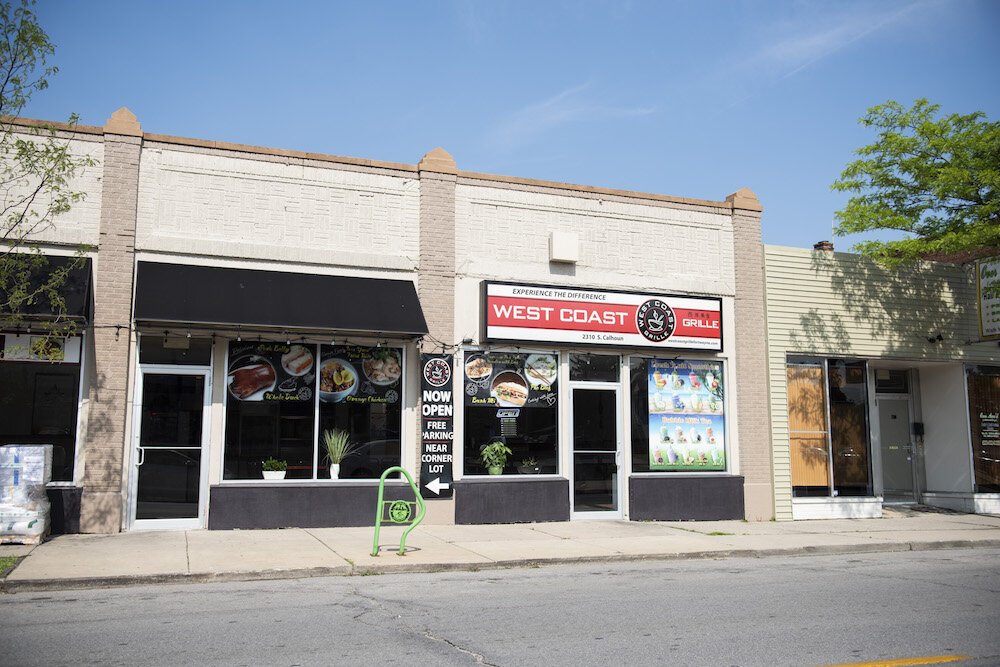 Truong plans to expand West Coast Grille into the space next door.
In a way, Truong credits his success to his south side location, too. When he started West Coast Grille, he envisioned it as a trendy spot for L.A.-style Bubble Teas and San Francisco burrito bowls. But when he moved, he evolved his menu for his new neighbors, adding the influences of Japanese, Vietnamese, and Chinese cultures.
Today, he receives glowing reviews for his pork belly and traditionally seasoned duck, which can be purchased whole.
Lee Truong stands by his famous seasoned duck at West Coast Grille on South Calhoun Street.
But to him and other minority business owners on South Calhoun Street, having opportunities is also an opportunity to give back. It's hard to start a business when you're a minority—hard to get banks to trust you for a loan and hard to get a business off the ground when you don't have wealth to fall back on, Truong says.
With this in mind, he and other business owners, as well as city leaders, are making strides to support minority entrepreneurs in Fort Wayne, and South Calhoun Street is the epicenter of the action.
***
Like Truong, Cesar Ruiz moved to Fort Wayne as an immigrant with his family when he was 16.
Raised in Mexico, he didn't know how to speak English when he arrived. But his parents were determined to help him adapt, so they moved to the north side of town and sent him to Northrop High School.
"The only reason I came downtown at that time was to learn English," Ruiz reflects. "They used to send me for half of the day."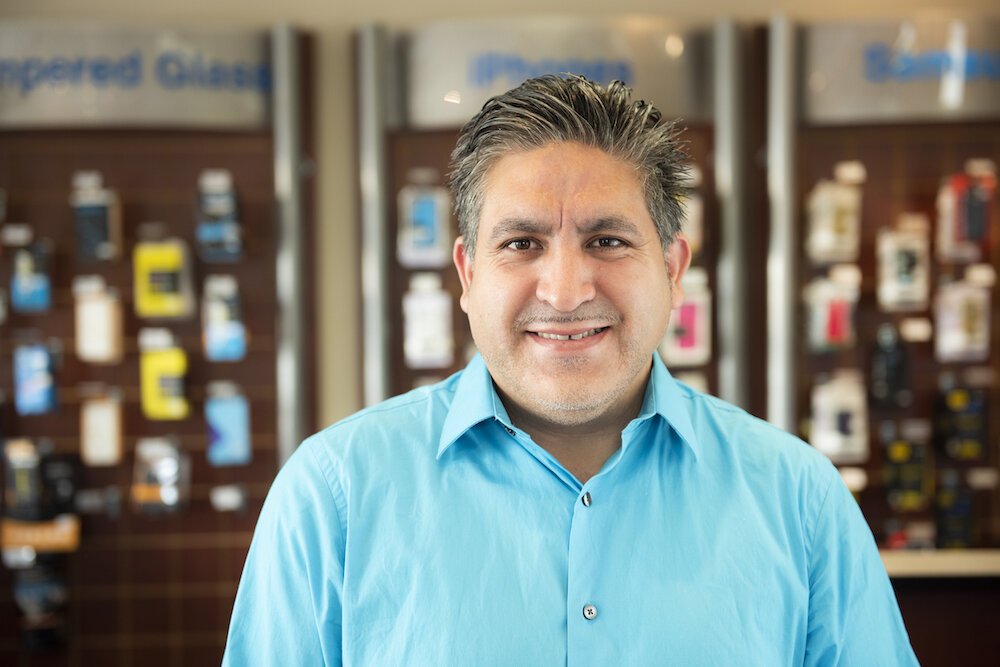 Cesar Ruiz owns Wayne PC Tech on South Calhoun Street.
The other half of the day, he learned English in the standard classroom, scribbling down every word he saw on the chalkboard, so he could piece together the lessons later that night with his dictionary.
"Within six to seven months, I was able to read and write," Ruiz says.
Over the years, he learned more than how to speak English. He became proficient in technology services, learning how to repair and troubleshoot issues on computers and other devices.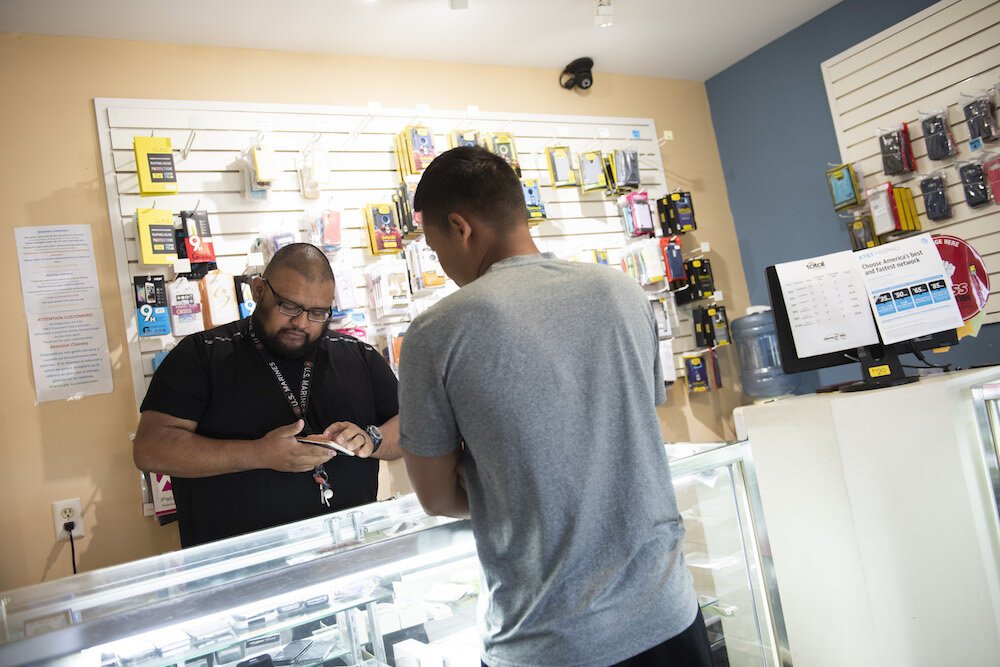 Wayne PC Tech does technology repair and IT support work on South Calhoun Street.
After working at a factory after high school, he earned his undergraduate degree in computer science and a master's degree in technology at Purdue University Fort Wayne. Ruiz also did freelance IT support and repair work for small-to-medium-sized companies.
When he graduated, he thought he'd move to L.A. to work for a tech company, but his clients convinced him to stay in Fort Wayne instead. So he started looking for an office with his brother, and he found the best deal on an old auto lot and kerosene heater repair shop at 2605 S. Calhoun St.
Ruiz liked the diversity of the area and its many multicultural restaurants, but like Truong, he also received warnings about starting a business on South Calhoun Street.
"Everybody says, when you open a business, it's about location, location, location," Ruiz says. "I knew a few business owners, and they told me: 'That's not a good location. You're going to go out of business in a year. You need a better location.'"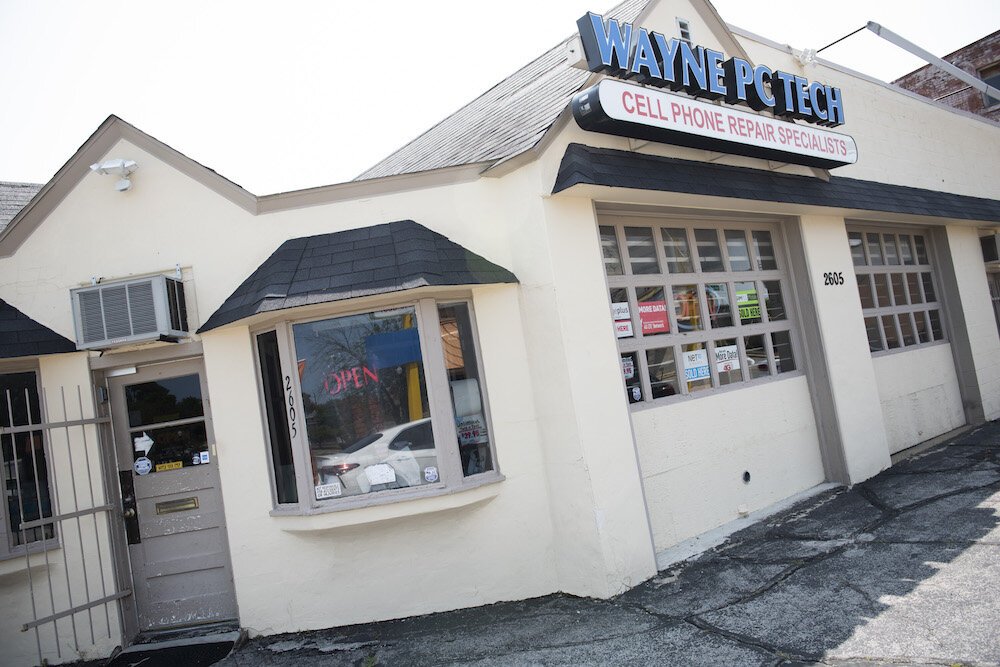 Wayne PC Tech opened in 2012 at 2605 S Calhoun St.
To be fair, there wasn't a lot of traffic at the time in 2012, he remembers.
"You would be driving on South Calhoun Street, and there would be a lot of empty buildings," he says. "There was really nothing alive."
But South Calhoun Street provided a space he could afford, and because of his investment, activity on the street began to change.
First, neighborhood people started coming in to get their phones or computers fixed. Before long, word spread by mouth to employees at downtown law firms and businesses—even pilots staying at downtown hotels. For anyone who wanted a device fixed in an affordable, timely fashion, his shop Wayne PC Tech was the place.
"We didn't even have signs out, but we started to get a lot of walk-ins," Ruiz says. "From there, we started getting referrals. We were having people coming from Michigan, coming from Ohio. They'd come two or three hours just for us to fix their device."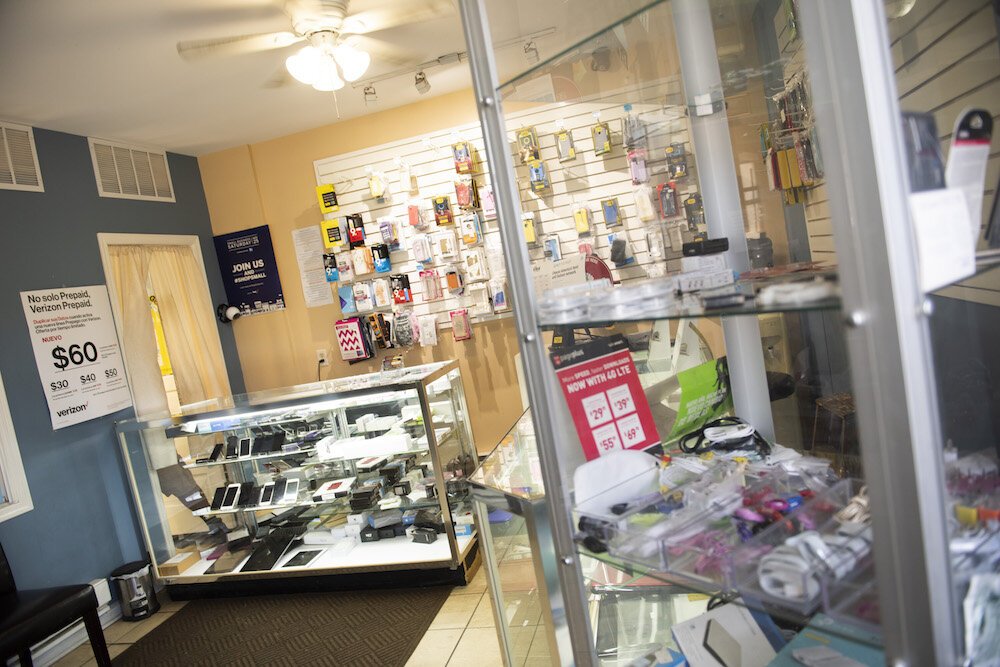 In addition to repair work, Wayne PC Tech also sells some new devices and accessories.
At the time, smartphones were growing in popularity, and while iPhones could be easily fixed at the mall, fixes for Android or Motorola phones were more difficult to find, Ruiz says. So he filled the market gap by repairing a wide variety of devices, and while customers were in town to get their phones fixed, he'd encourage them to explore other businesses on South Calhoun Street, too.
With restaurants of all types lining the street, the options were many, and visitors could easily access downtown in short drive or by foot, too.
"Some people had never been to Fort Wayne before, and they came for the first time to get their phone fixed," Ruiz says. "They'd say: 'I love this; You fix my phone the same day, and I also get to experience the city. This is great.'"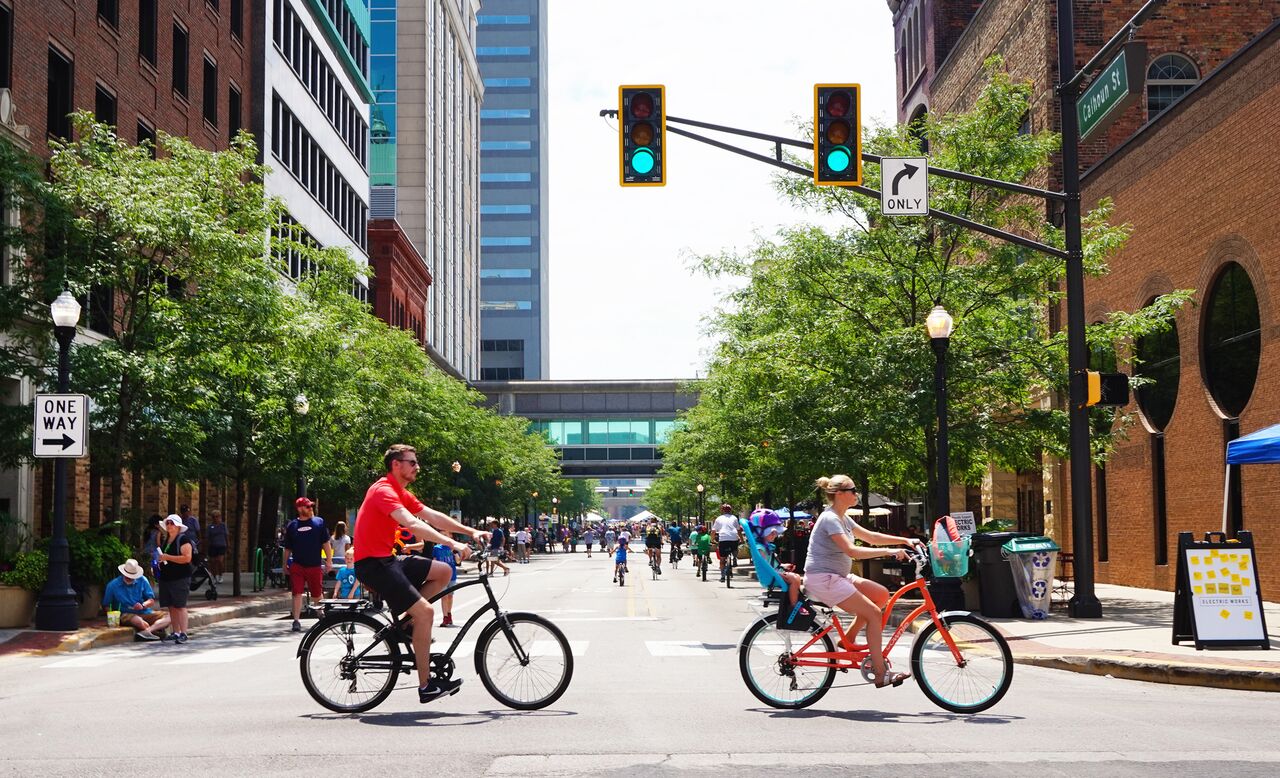 Downtown Fort Wayne is accessible by foot, bike, or bus along the South Calhoun Street urban corridor.
Over the years, Ruiz's business continued to grow to the extent that he opened an additional location for Wayne PC Tech at Lima and Washington Center Road in 2017. But it's still his first location on South Calhoun Street that is closest to his heart.
"We meet so many people here, and we love it," Ruiz says. "The diversity has grown up a lot on South Calhoun Street because there's good business here. It's become one street where you can get pretty much anything you want, and it's authentic. There's a big difference."
*** 
While some of the progress on South Calhoun Street has happened organically, fueled by local business owners, it's also part of a larger vision for the urban corridor's future, says Ellen Cutter, Vice President of Greater Fort Wayne Inc.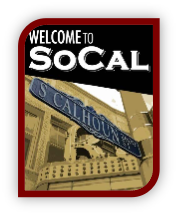 South Calhoun Street is branded as SoCal.
In 2016, area leaders and stakeholders formed a community-based organization called the SoCal Development Board to hash out plans for the future of South Calhoun Street based on its demographics, challenges, and opportunities.
The board gathered interviews, convened focus groups, and conducted surveys of more than 150 local community members. The idea was to brand the area as "SoCal," reactivating its vacant storefronts and building on its cultural vibrancy.
At the time, Cutter was working for the Community Research Institute at Purdue University Fort Wayne, so she helped with the project, but she also had a personal stake in the matter.
The South Calhoun Street area connects to her neighborhood Williams-Woodland Park—the only home she and her husband have ever known in Fort Wayne.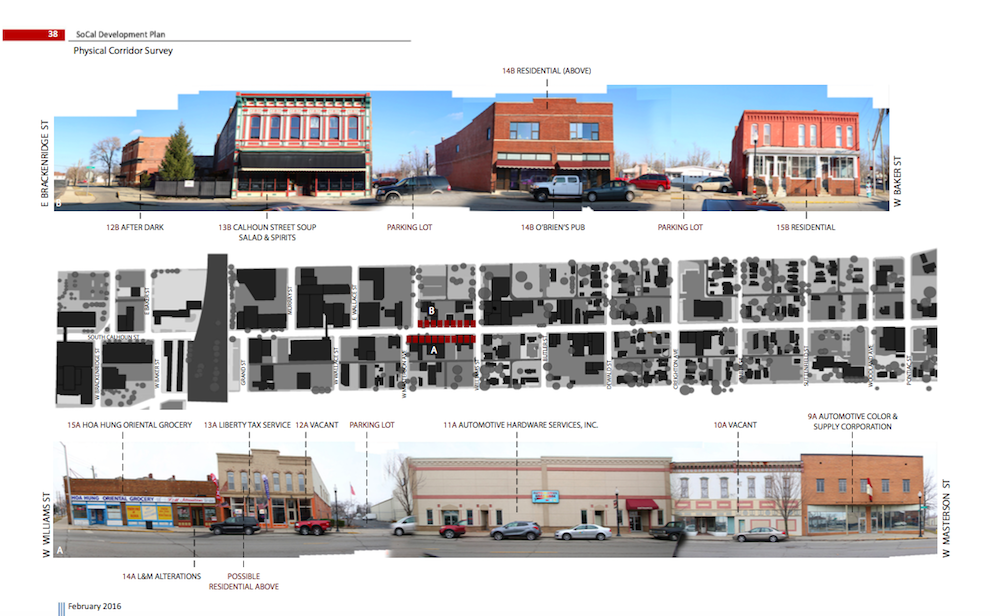 A rendering of South Calhoun Street's existing structures as part of the 2016 South-Central Calhoun Street Development Plan.
Beyond wanting to see her neighborhood thrive, Cutter also saw the area's value in extending downtown's success.
"It has a bus line; it has wide, walkable sidewalks; it's connected to downtown, and it already has a stable mix of businesses," she says. "It seemed like a corridor that would be at a tipping point in terms of additional small business investment."
In fact, the report estimates that between 2015-2025, the South Calhoun Street corridor could support an additional 15-21 retailers and four restaurants.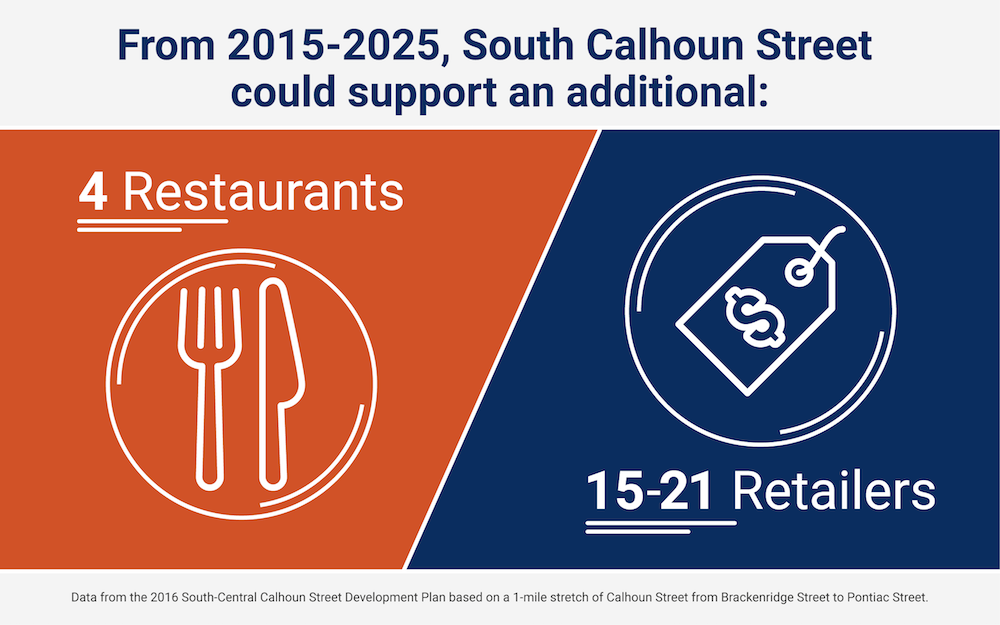 But, of course, plans are only plans without the funding and organization to make them happen.
So in the fall of 2018, Greater Fort Wayne Inc. led a group of Fort Wayne leaders on a trip to Detroit to make good on two pieces of the puzzle: Finding ways to help minority entrepreneurs successfully launch businesses and reactivate vacant storefronts at the same time.
By studying two Detroit-based programs, local leaders have been able to replicate similar services in Fort Wayne, creating what's known as Build Institute Fort Wayne and the Summit City Match pilot program. Both of these programs are run by the organization SEED Fort Wayne, formerly known as the Urban Enterprise Association, with support and funding from the City of Fort Wayne, Chase Bank, and a coalition of nonprofit organizations.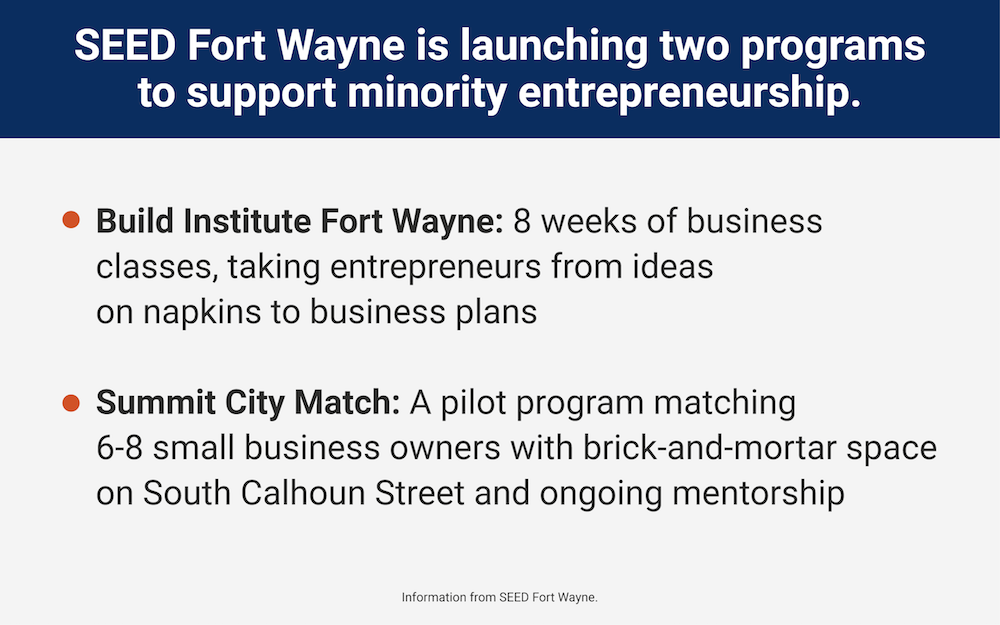 So far, the programs are getting support from area business owners like Truong, too. When city leaders approached him about mentoring other small business owners on South Calhoun Street, he gladly agreed.
"I said, 'You know, whoever wants to open a business, I can help,'" Truong says. "Any time that I have free time, put me on the list. I want to share."
Even so, getting a small business—particularly a minority-owned business—off the ground is no small task, says Truong, who earned his MBA in business as former a Regional Manager for Panda Express.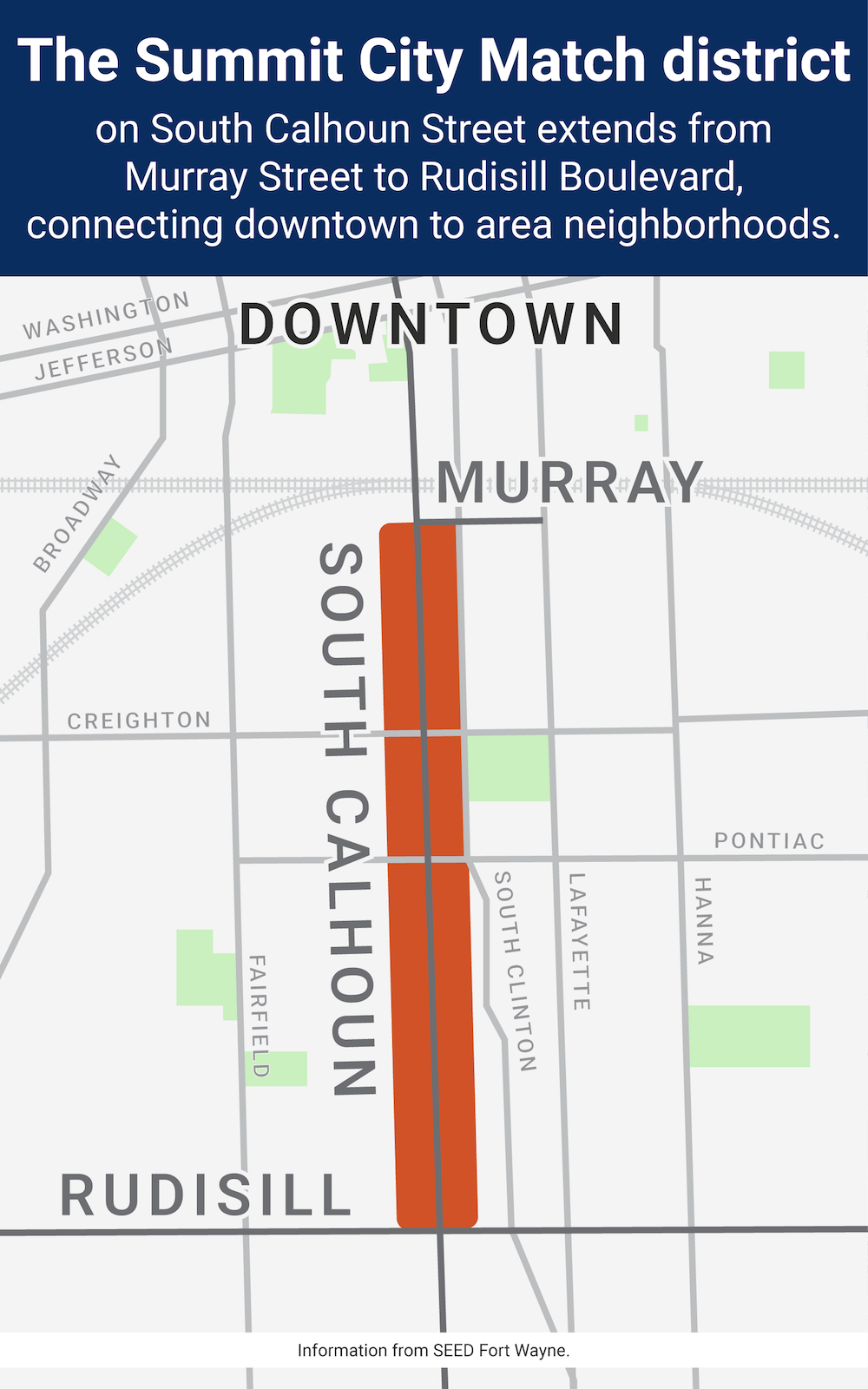 It's those first two years of having your own space as an entrepreneur that are the hardest. That's when the bills start rolling in, and you aren't making enough sustainable cash flow yet. In the building he owns on South Calhoun Street, he's already helping two minority entrepreneurs launch their own businesses: a hair salon and a cell phone repair shop.
"They don't have a lot of money, but they have very good skills," Truong says. "I tell them: 'Just focus on your business. If you survive, the whole neighborhood will be great.'"
As part of the Summit City Match pilot program, other South Calhoun Street business owners are offering up their space to support budding entrepreneurs, as well.
***
Christina Merkler and her husband, Cameron, purchased a building on South Calhoun Street for their growing business Discount Comic Book Service (DCBS) in 2014.
They started the business in their basement and leased two former locations on the north side of town. When they were ready to buy their first space, they wanted a building with a large warehouse that was affordable, and they found it at 2001 S. Calhoun St. As a bonus, it came with a storefront, but the building was heavily dilapidated when they moved in, Merkler remembers.
"The electricity wasn't even working; the roof was leaking; it was rotted out, and it was really dark and cold," she recalls.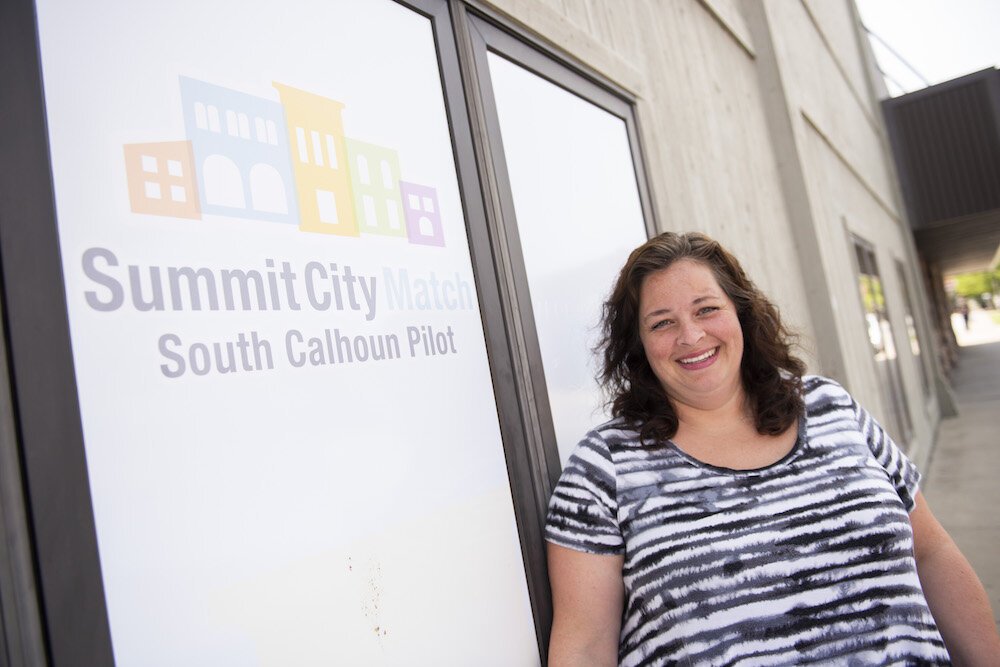 Christina Merkler of DCBS is a business owner participating in the Summit City Match pilot program.
After fully renovating the space, she envisioned it as a "place to be" for her customers. She filled the storefront with comic book displays and added a large coffee bar. But while DCBS's online business took off—making them the nation's largest online comic book retailer—their storefront space remained stagnant.
"We just didn't have the time or the staffing to be able to make it what we had hoped," she says.
DCBS still uses its warehouse space at 2001 S. Calhoun St.
As a result, she and her husband decided to offer their storefront to be part of the Summit City Match pilot program this fall, which will help them lease the space to a female or minority entrepreneur who is ready for a brick-and-mortar location.
Merkler says she and her husband were impressed with the program's ability to help entrepreneurs get a leg up on the difficult journey of owning their first space. Along with matching entrepreneurs with building owners, the Summit City Match is designed to walk them through those first few years of running a business to ensure their success.
During the annual Open Streets event on July 14th, Merkler's storefront will be converted into a pop-up venue for four local businesses, which have the opportunity to test their concepts for up to 30-days. The official tenant of the space will be chosen later this year.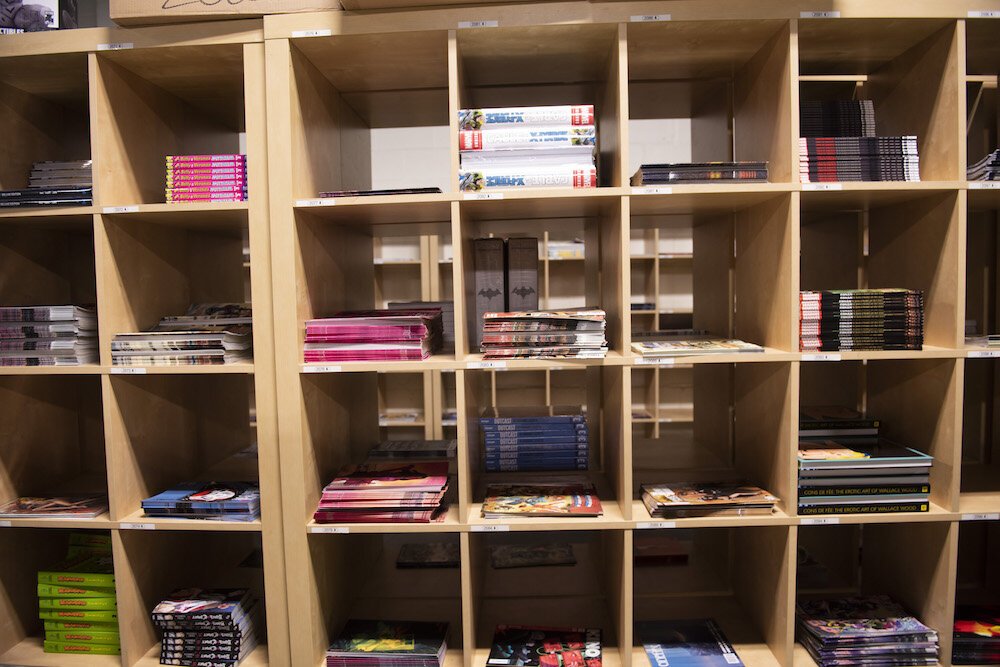 DCBS sells discount and pre-order comic books.
***
As the supply of vacant storefronts on South Calhoun Street expands, the demand among minority business owners for office space is growing, too. Just ask John Dortch, the primary owner of the Penta Group Minority Entrepreneurial Center at 2513 S. Calhoun Street.
Dortch and two of his fraternity brothers jumped on the opportunity to purchase the space in 2014 for one big reason.
"It's on the most diverse street in the city," he explains.
But while South Calhoun Street has a great diversity in its local food and residents, one thing it didn't have at the time was an entrepreneur center specifically for minority business owners, so Dortch and others decided to start one.
"I felt that if people want to grow their business, we've got to have one," he says.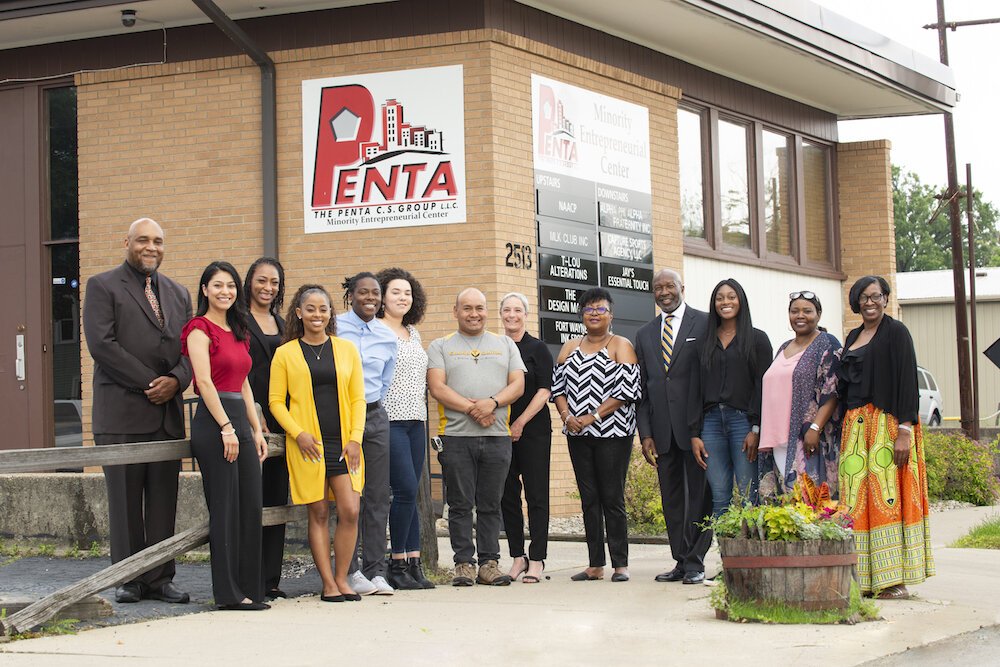 The Penta Group Minority Entrepreneurial Center is located at 2513 S. Calhoun St.
The idea took off, and about five years later, Dortch finds himself working out of a closet-sized printer room at the Penta Center. He gave up his actual office across the hall a few months ago so he could accept his eighth tenant. Now, the space is full, and he's out of room.
But it's a good problem to have, he says, shaking his head and laughing as he looks out the window at cars lining the street.
"We've got two more people on the waiting list," he says excitedly, leaning in to whisper a secret. "I'm kind of thinking—I need it like I need a hole in the head—another building or something."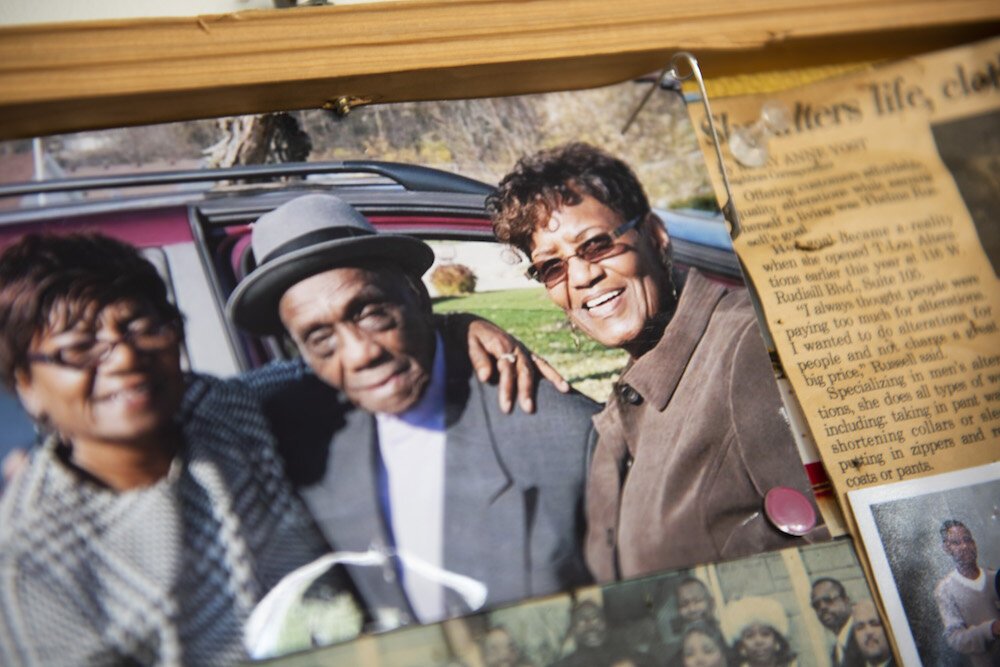 The Penta Center provides office space and resources for well-known business owners like Miss (Thelma Lou) Russell of T-Lou Alterations.
In addition to managing the Penta Center, Dortch also runs Fort Wayne Ink Spot newspaper out of the Penta building and owns a private consulting business.
"I don't sleep a lot," he admits, and yet, he radiates energy as he walks up and down the hallway, waving hello to tenants and pointing out who's who.
The Penta Center is home to a range of businesses, from Jay's Essential Touch massage therapy to Capture Sports Agency, LLC, which is certified to represent WNBA players.
Miss Thelma Lou Russell, a well-known seamstress in the community, moved her office for T-Lou Alterations to the Penta Center about two years ago when her old office building was torn down.
"She's got a revolving door here," Dortch says.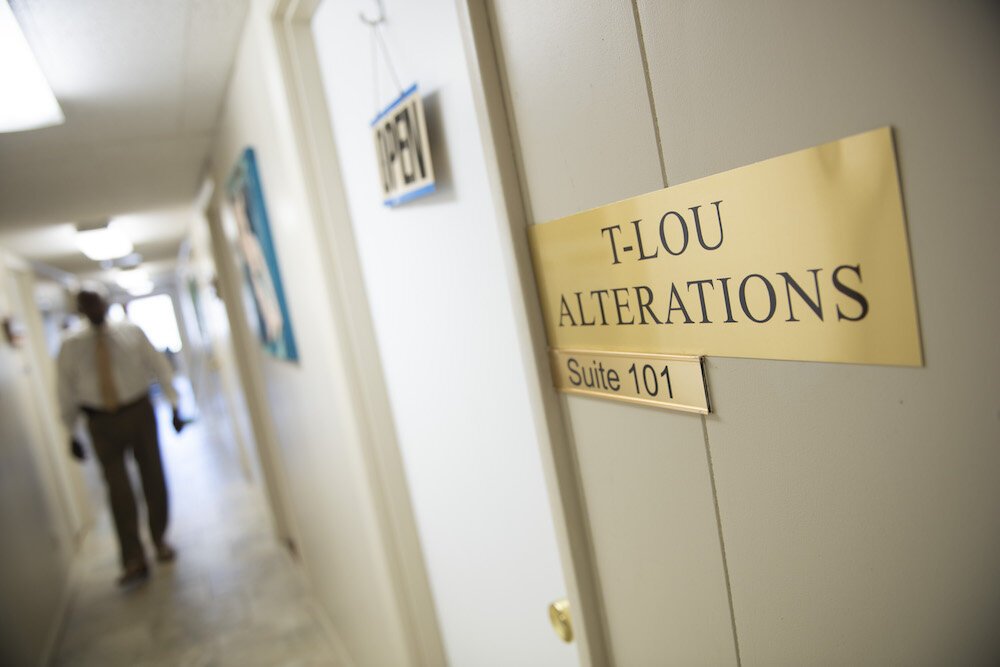 T-Lou Alterations is a popular business at the Penta Center.

Having seasoned business owners around is good for rising entrepreneurs, too. The most recent tenant, Laneisha Bennett, started her business, The Design Market, out of her parent's house, making custom designs for programs, invitations, flyers, obituary banners, table covers, and wall paintings.
She says the benefit of having an office at the Penta Center is that it provides a professional place close to home for her clients to visit, and it helps her attract new business by being part of a network.
"There are relationships you can make where people just walk in, even if they're not technically here for you," she says. "Miss Russell has clients all day, and if she's not here, then her clients will walk down here, so you get the benefit of networking."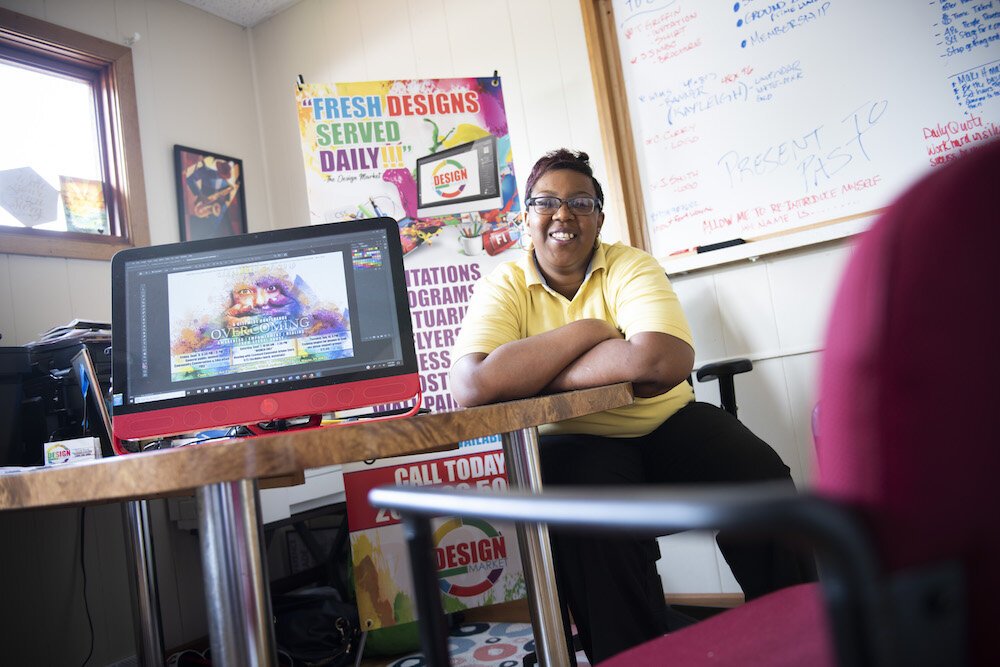 Laneisha Bennett, runs her business, The Design Market, from an office at the Penta Center.
Bennett also enjoys the convenience of the Penta Center, which is open to use 24/7 as part of her membership fee.
Dortch prides himself in being able to offer tenants an affordable, all-inclusive rate, which includes utilities, parking, and wifi.
The idea is to help budding entrepreneurs make the transition to owning their own space someday. As such, he is working with SEED Fort Wayne to host Build Institute Fort Wayne classes at the Penta Center, too.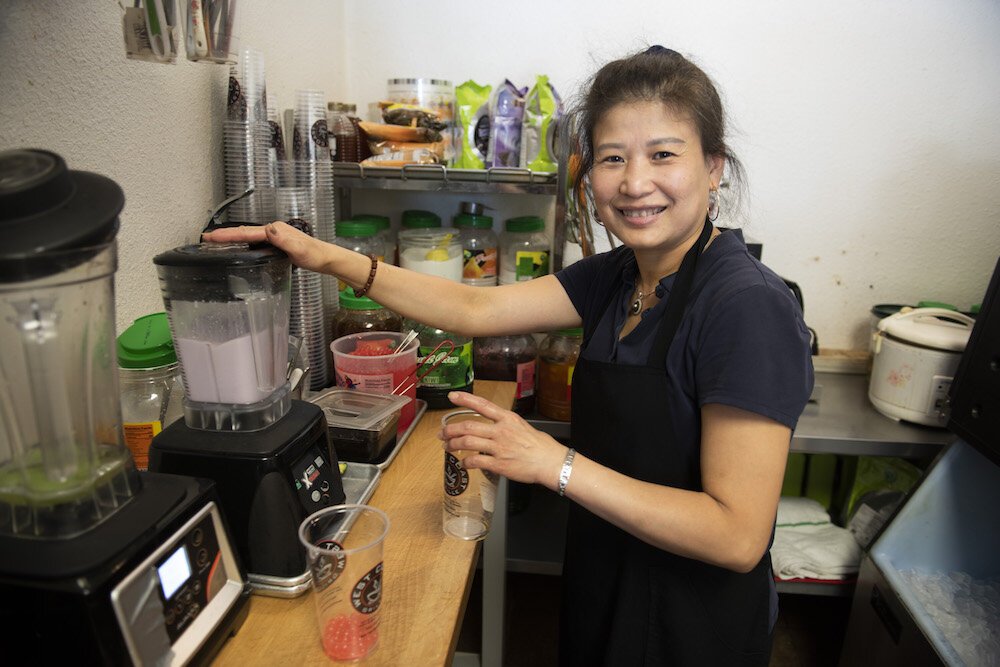 West Coast Grille offers bubble milk tea, smoothies, and jasmine-green tea.
But while support systems for entrepreneurs are growing, Truong warns hopeful entrepreneurs that the realities of running your own business are not easy.
While he's created a restaurant that gets glowing reviews from local food critics, and he's acquired enough wealth to own his own space, he's eight years in, and he's still working 12-hour days, from 10 a.m. to 10 p.m. Even so, it's all worth it because he loves what he does. And when you love something, you're not afraid.
"I put a lot of heart in it, you know," Truong says. "In the beginning, you need to work extremely, extremely, extremely hard. Seven days a week. Long hours. But after that, you'll be okay as long as you have a heart and a passion that's steady. Not being afraid is an opportunity, too."
This Special Report was made possible by Greater Fort Wayne Inc.