Saturday, December 3, 2022, at 7:00pm
Location: Allen County Memorial Coliseum (Directions)
Theme: Black Panther Night
Presenter: Mad Ants x Black Chamber Fort Wayne
---
Black Chamber Fort Wayne and the Mad Ants are planning an exciting December 3rd Saturday evening for members, their families and friends. The players will showcase their "Wakanda Forever" unity on the court with themed uniforms. There will be food, games, and prizes. The event promises fun family "Antertainment"!
There is no charge for admission for Black Chamber members, but there is a fee for admission for member families and the public. Membership has its privileges.
The Mad Ants will be playing Chicago's Windy City Bulls. See the poster for additional details.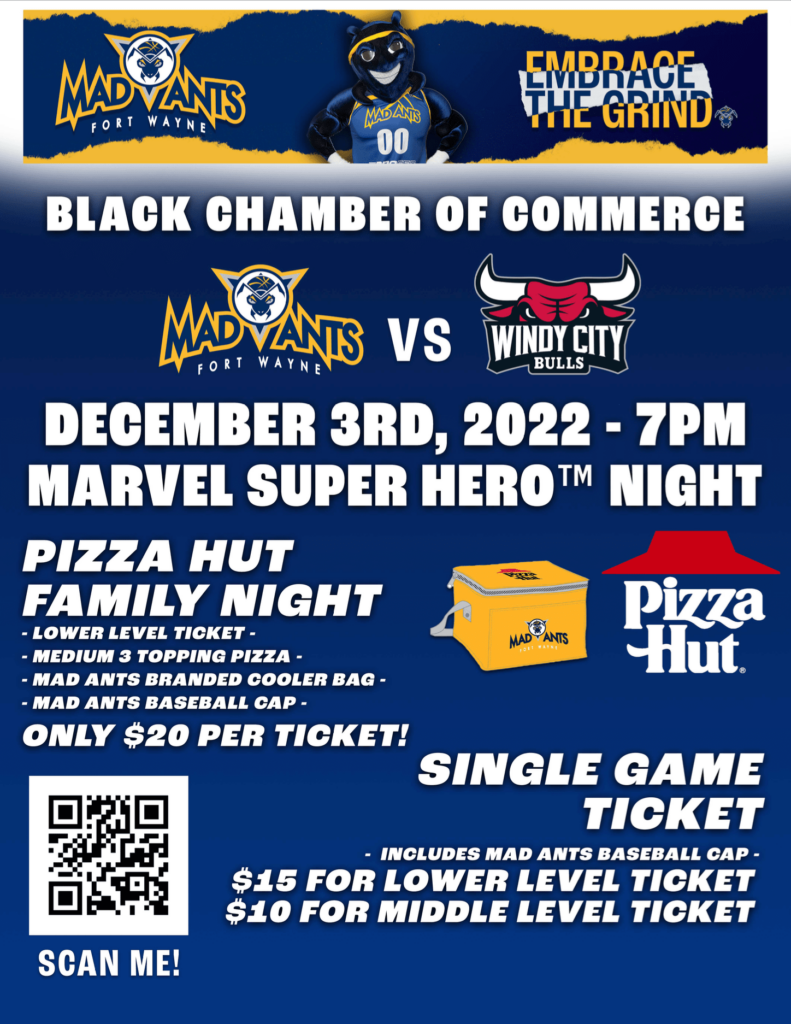 Venue: Allen County War Memorial Coliseum
Address: 4000 Parnell Ave
City: Fort Wayne
State: Indiana
Zip Code: 46805
Country: United States
Cost:
FREE: For Black Chamber members, you'll also receive a free Mad Ants baseball hat
$20 per ticket — Pizza Hut Family Night: lower level ticket, medium 3 topping pizza, Mad Ants branded cooler bag, Mad Ants baseball cap
Single Game Ticket: includes Mad Ants baseball cap
$15 for Lower Level Ticket
$10 for Middle Level Ticket